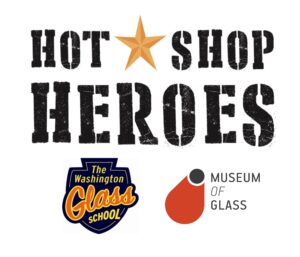 WASHINGTON, D.C. and TACOMA, WASHINGTON — The Washington Glass School in Mount Rainier, MD is proud to announce a groundbreaking collaboration with the Museum of Glass in Tacoma, Washington, aimed at enhancing the lives of military personnel and veterans through the transformative power of Hot Shop Heroes™. As one of the first collaborations of its kind for the Museum of Glass, this partnership underscores their dedication to expanding the horizons of glass artistry. By combining the Washington Glass School's expertise in glass art instruction with the Museum of Glass's world-class facilities and resources, this alliance of the two Washingtons (State and District of Columbia) promises to create a nurturing and enriching environment where veterans can discover the healing potential of working with glass.
Hot Shop Heroes is a pioneering program that has been instrumental in aiding military personnel and veterans in their journey to heal from traumatic experiences and injuries sustained during combat. The program creates a supportive environment where participants work collaboratively, forging bonds with one another while exploring the captivating art of molten glass. The blend of social interaction, shared goals, and creative expression within the Hot Shop Heroes program offers a unique and therapeutic experience that has been proven to promote healing and personal growth.
According to the American Art Therapy Association, the debilitating effects of post-traumatic stress can affect up to 18-percent of soldiers deployed to Iraq and Afghanistan. For many, the use of medication, cognitive behavioral therapy (CBT), or eye movement desensitization and reprocessing (EMDR) can be helpful in treating this condition, but the addition of art therapy has shown to be invaluable to an individual's recovery.
This remarkable initiative started as a Museum of Glass created opportunity for military members and their families to engage in hands-on art activities, glassblowing demonstrations, and gallery exhibitions, has evolved into a program specially designed to assist active-duty and retired service men and women in their transition to civilian life. The program has demonstrated that the concentration and camaraderie required for glassblowing can be profoundly therapeutic, particularly for individuals with traumas and injuries stemming from their military service.
Since its inception in the fall of 2013, the Hot Shop Heroes program has been dedicated to teaching kiln formed glass safety procedures, fundamental glassmaking techniques, welding experience, and team building skills. The program's objectives are to provide participants with improved dexterity, fine motor coordination, and core strength, all while fostering self-esteem, nurturing creativity, and stimulating imagination through artistic participation. Today, Hot Shop Heroes remains a cornerstone educational program at the Museum of Glass, transforming lives through art.
The Hot Shop Heroes program offers glassmaking and metal shop courses to participating soldiers and veterans, catering to introductory and intermediate skill levels. With classes tailored to different levels of glassmaking experience, Hot Shop Heroes empowers participants to refine their abilities, extending the reach of their skill sets beyond the walls of the Glass Studio and into new job opportunities.
To sustain and expand this life-changing program, Hot Shop Heroes relies on external funding to provide classes at no cost to participating students. As of 2023, over 750 soldiers and veterans have benefited from the Hot Shop Heroes program, and this collaboration between the Washington Glass School and the Museum of Glass aims to extend the reach of this transformative initiative to even more individuals in need.
For more information about the Hot Shop Heroes program and this exciting collaboration between the Washington Glass School and the Museum of Glass, please visit http://washingtonglassschool.com/school
Hot Shop Heroes — Museum of Glass
Media Contact:
Erwin Timmers
Co-Director, Washington Glass School and Studio
erwin@washglass.com
About Washington Glass School:
The Washington Glass School, located in Mt Rainier, MD is a renowned educational program in the Nation's Capital area, operating as the sculptural glass education and resource center for the mid-Atlantic region, serving students, artists and the general public.  Founded in 2001 by passionate glass artists, the school offers a wide range of classes, workshops, and educational programs aimed at fostering creativity and innovation in the world of glass sculpture.
About Museum of Glass:
The Museum of Glass, situated in Tacoma, Washington, is a premier institution dedicated to the appreciation and exploration of glass art. With a world-class collection and a mission to engage and inspire a broad and diverse audience, the Museum of Glass is a hub for creativity, education, and artistic expression.