WGS COVID Re-Open Protocol
Before you commute to the studio:
Conduct health self-assessments utilizing the CDC Self-Checker to assist. If your temperature is 100.4 or higher, or if you are exhibiting other signs of COVID-19 infection per Centers for Disease Control (CDC) guidance, stay home.
These rules should be followed every time you return to the artist workspace after being outside the building (especially when arriving to studio).
Wear a face covering.
Maintain six feet of distance while going through the studio and walking to your workspace.
Wash hands upon entry to studio. Wash your hands frequently with soap and water for at least 20 seconds.
Place small personal items in designated area.
Click HERE to jump to WGS Covid-19 Protocols
_________________________
SPECIAL EVENTS / MUSEUM & GALLERY SHOWS
_________________________________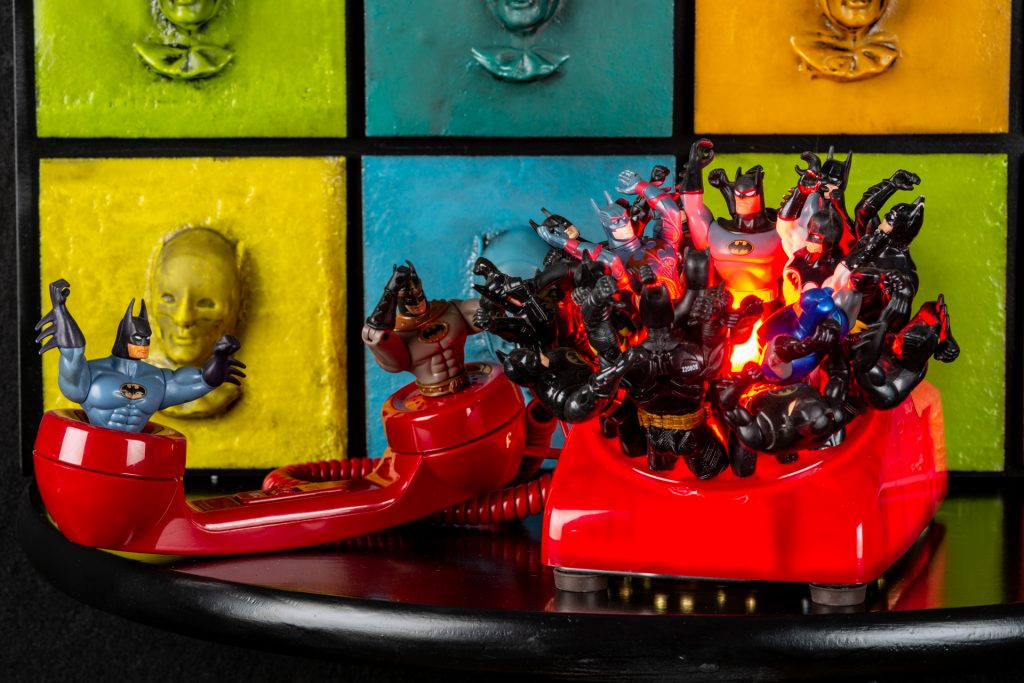 WGS Co-Director Michael Janis has collaborated with Chicago-based artist Tony Porto on a new series of glass/mixed media sculptures – making their debut solo show debut in Habatat Galleries' "Not Grandmas' Glass" (NGG) exhibit/competition. NGG is new and groundbreaking competition, held over 12 months featuring 12 artists that the gallery feels are pushing the medium beyond "traditional" studio art glass. 
Click "HERE" to jump to their exhibit website.
Click "HERE" to jump to Habatat Galleries YouTube recording of online artist talk.
Click "HERE" to jump to Detroit News article on Michael & Tony.
Click "HERE" to jump to Fox 2 Detroit visit to the gallery.
______________________________________
Washington, DC news organization, The DC Line, has published an article about WGS artist Michael Janis titled "Art during COVID-19" The article focuses on how the pandemic has changed his studio practice and his artwork, and highlights the universal need for connections.
The DC Line is a nonprofit media organization dedicated to covering local news in Washington, DC and providing information needed for one to be an active participant in DC life and culture.
______________________________________
The Arts and Humanities Council of Montgomery County (AHCMC) has honored Washington Glass School Co-Director Erwin Timmers with the 2018 County Executive's Awards for Excellence in the Arts and Humanities. Established in 2002, these awards honor community leaders whose work in the cultural sector has made an impact in Montgomery County, MD.  Congratulations Erwin!
______________________________________
The American Craft Council (ACC) is the leading arts nonprofit cultivating a culture of making. The ACC's award-winning magazine seeks to "inspire, telling the behind-the-scenes stories of artists and designer-makers, while exploring the multifaceted benefits of creative living".
The December/January 2018 issue of the magazine features a story by author/critic William Warmus that delves deep into Tim's softer side. Exploring Tim's history in the glass world, William writes about the what drives his work, and about the development of the Facebook "Glass Secessionism" page.
______________________________________
Michael Janis @ Smithsonian American Art Museum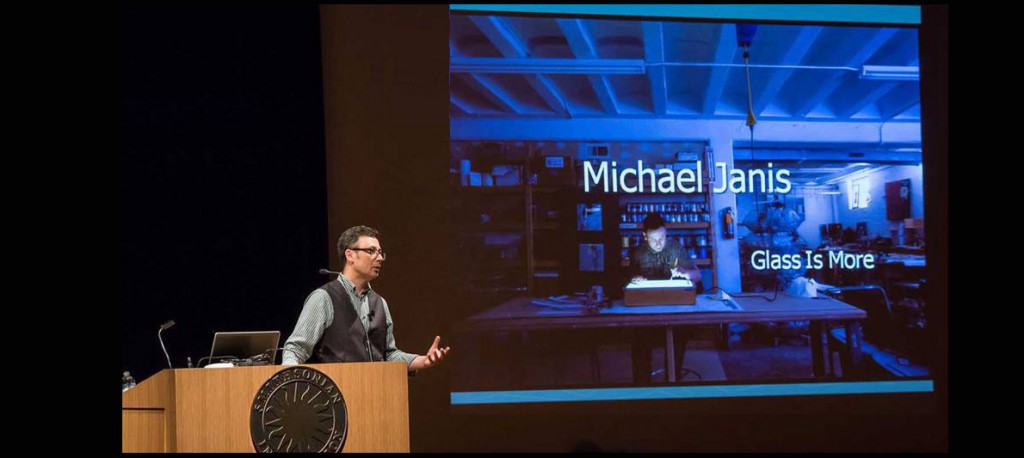 The  James Renwick Alliance (JRA) named Washington Glass School Co-Director Michael Janis as its Distinguished Artist of Glass as part of the JRA Distinguished Artist Series. Michael's talk at the Smithsonian American Art Museum (SAAM) was filmed and broadcast as a webcast – click HERE to jump to the SAAM online webcast page.
Media
______________________________________
Washington DC City Paper has awarded Second Place in the Best of DC Art Blog category to the Washington Glass School Blog! Merci DC!
Watch the Washington Glass School's 2007 appearance on local PBS channel –WETA.
Fox News' Holly Morris visited the Glass School to learn more about eco-art with Erwin Timmers. Watch this video segment.
Watch Washington Glass School on YouTube
BOOKS & Magazines
Glass Secessionism
The intent of this group is to underscore and define the 21st Century Sculptural Glass Movement and to illustrate the differences and strengths compared to late 20th century technique-driven glass. While the 20th century glass artists contributions have been spectacular and ground breaking, this group focuses on the aesthetic of the 21st century. The object of the Glass-Secession is to advance glass as applied to sculptural expression; to draw together those glass artists practicing or otherwise interested in the arts, and to discuss from time to time examples of the Glass-Secession or other narrative work. Jump to the Facebook group page.
The American Craft Council interviewed Tim Tate about the post-studio glass movement in its April/May 2014 magazine – click HERE to jump to the article.
American Craft Magazine Features Washington Glass Studio
The June/July 2013 issue of American Craft Magazine featured an "In Progress" review of the collaborative process employed in the creation of the new glass doors for the US Library of Congress Adams Building. An interview with Michael Janis and Tim Tate outlines how the spectacular doors came into being – over a 9 year period. Some great photos in the article!
Glass Art Magazine Features Michael Janis
The Jan/Feb 2017 issue of Glass Art Magazine features a great profile on Michael Janis. Michael was interviewed for Glass Art's podcast series "Talking Out Your Glass" earlier in 2016, and the magazine has followed up their 2012 cover story about Michael with another great article!
American Style Magazine's June 06 issue featured the works of Tim Tate, Erwin Timmers, Michael Janis, and Liz Mears, and reviewed the impact the Washington Glass School has on the 'content-driven' art movement.