The key personnel for the Washington Glass School have many years of combined experience with glass, steel, sculpture, architecture, and public art installation. This includes education, creating and collaborating on public and private art projects. Much of the expertise involving advancements in sculptural design and theory, technological improvements and installation procedures is continually developed and refined.
School Directors
Tim Tate is a Washington, DC native, and has been working with glass as a sculptural medium for the past 25 years. Co-Founder of the Washington Glass School, Tim's work is in the permanent collections of a number of museums, including the Smithsonian's American Art Museum, Renwick Gallery and the Mint Museum. He was awarded the title of "Rising Star of the 21st Century" from the Museum of American Glass and was also the recipient of the 2009 Virginia Groot Foundation award for sculpture. His work has been shown at the Milwaukee Art Museum, the Fuller Museum, the Asheville Art Museum and the Museum of Arts and Design in New York. He is a 2012 Fulbright Scholar recipient and was Artist-In-Residence at the Institute for International Glass Research (IIRG) in the UK.
Click here to view Tim's website
Click here to email
Erwin Timmers is Co-founder and Director of the Washington Glass School and one of the DC area's leading 'eco-artists'. Recycling, waste, the environment and how they relate to society are recurring themes in his work – and Erwin has developed a number of courses that integrate his environmental ethos into the classroom. Erwin is currently working with architects and designers on a number of "green" projects. His work in sustainable design can be seen in some of the large public art projects he has completed, including an award winning project for the EPA headquarters in Washington, DC, and the public artwork for the LEED certified Safeway supermarket in Bethesda, MD. The Arts and Humanities Council of Montgomery County (AHCMC) honored Erwin in 2018 with a County Executive's Awards for Excellence in the Arts as "Outstanding Artist".
Click here to visit Erwin's website
Click here to email
Michael Janis developed a focus on kiln-glass after working for twenty years as an architect in the United States and Australia. Now Co-director of the Washington Glass School, Michael has taught at the Penland School of Crafts, the Bay Area Glass Institute, and The Glass Furnace (Istanbul, Turkey). His work has been shown at ajor galleries and art fairs and is included in the permanent collection of the Art Institute of Chicago. In 2011, Michael mounted a solo exhibition at the Fuller Craft Museum (Massachusetts). In 2012, awarded a Fulbright Scholarship, Michael went to the UK's University of Sunderland and National Glass Centre, where he was Artist-in-Residence at the Institute for International Glass Research (IIRG). American Craft Magazine profiled his work in their April/May 2013 issue. Named a "Distinguished Artist of Glass" by the James Renwick Alliance, Michael has lectured about his work at the Smithsonian American Art Museum. In 2016, The DC Commission on the Arts & Humanities (DCCAH) awarded Michael Janis the 31st Annual Mayor's Arts Award for "Excellence in the Arts". The Mayors Arts Awards are the most prestigious honors conferred by the city on individual artists, teachers, nonprofit organizations, and patrons of the arts.
Click here to visit Michael's website
Click here to jump to Smithsonian Museum's video webcast of Michael's presentation at the Smithsonian American Art Museum.
Click here to jump to Michael Janis Wikipedia page
Current Instructors
The Faculty at the Washington Glass School includes working artists, professionals and educators from across the spectrum of art and sculpture, incorporating many different media. These seasoned professionals teach all aspects of sculptural, functional and decorative glass along with media such as steel, concrete, encaustics, ceramics, video, and lighting.
Jennifer Lindstrom holds a master's degree in education from the University of Maryland – College Park. After working as an instructor at the Washington Glass School, she completed a woodworking concentration at the Penland School of Craft. Her elegant and disciplined aesthetic in glass was featured in the Washington Post's Style Section. A College Park resident, she has also run in 7 marathons and served as president of the DC Rollergirls flat track roller derby league. Jennifer identifies as a biracial, gay woman, and transracial adoptee.
Patricia de Poel Wilberg lives in Maryland where she continues her lifelong pursuit of art. Formerly a student at the New York Art Students League, Art and Design High School, The Cooper Union School of Art, and finally the University of Southern Maine where she completed her degrees in Fine Art and Art Education. She has been a resident artist at the Washington Glass School in Mount Rainier for over 5 years. Patricia was first introduced to using glass as an artistic medium while working with adults with special needs. She enjoys exploiting its plasticity and luminosity in works that incorporate art history and the theme of womankind.
April Shelford has worked in glass for the past 10 years. Her chief interests are color and pattern, which she explores most often through pattern bar techniques. Her craft is informed by the meticulous attention to detail her mother brought to quilt making and crewel embroidery; it is animated by the questing curiosity she inherited from her father. Her fused glass work also resembles the work historians do to recover the past: discover, assemble, and fuse together diverse elements, charging them with meaning.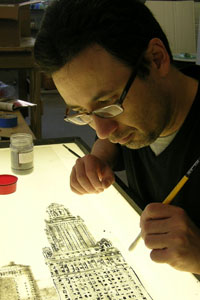 Graciela Granek was born and raised in Argentina. Graciela studied at Buenos Aires University, Tel Aviv University and George Washington University. In recent years, Graciela uses the glass to express herself. She focuses on the beauty and poetry of broken things, exalting fracture lines and piecing shards together into a transformative new whole.
Pete Duvall graduated from Syracuse University in 1998 with a BFA in Photography and moved back to DC afterward. Pete teaches workshops and classes for the Art League School in addition to the Washington Glass School. Alison Duvall graduated from Syracuse University in 1999 with a BFA in Photography and has lived in the Washington, DC area ever since. She currently teaches art at the Parkmont School and has taught at the National Cathedral School, River School and Corcoran School of Art and Design's Camp Creativity. She is also a freelance photographer with her husband for their company, Anything Photographic. Check out anythingphoto.net for more information.
Click here to visit their website
Click here to email
Alison Sigethy studied design at Mason Gross School of the Arts at Rutgers University and received degrees from Marymount University. She is a member of several glass guilds and was Chairman of the 2004 Glass Arts Festival, a bi-annual event sponsored by the National Capitol Art Glass Guild, the Glen Echo Glass Art Consortium, and the National Park Service.
Click here to visit Alison's website
Audrey Wilson has a BA in Crafts with a Glass Concentration from Kent State University. Originally from Columbus, Ohio, Audrey has worked at the Chrysler Museum Glass Studio as the studio and teaching assistant, working with the museum's visiting glass artists. Audrey's artwork examines nature and organic forms and our relationship to them. She specializes in kiln casting, pate de verre and sand casting with mixed media. 
Allegra Marquart has been teaching printmaking at the Maryland Institute College of Art (MICA) for decades. Nine years ago she began to include glass as a way to strengthen and revitalize her imagery. Her glass artwork is featured at international art venues, including SOFA Chicago and Palm Beach 3.
Click here to visit Allegra's website
Tim Slagle has been an LED fanatic since getting his mom to buy him a Radio Shack grab bag in the 5th grade. Despite degrees in Engineering and work on optical data storage and digital imagers, Tim's spare time is filled designing and building gadgets that blink and glow. Since moving from Silicon Valley to Washington, DC, he has led LED project workshops for Dorkbot DC and worked with local multi-media artists to add electronics smarts and interactivity to their work.
Diane Cooper Cabe's glass portfolio comprises both sculptural and functional pieces. She began her career in glass with studies at local and national glass centers, including Washington Glass School, where she was one of the first studio artists. A Bullseye E-merge finalist, Diane's cast and fused artwork has been exhibited in local and national galleries. She is a resident artist with the Art Glass Center at Glen Echo, Maryland.
Click here to visit Diane's website
Chris Shea has been a professional studio metalsmith since 1997, creating sculpture, furniture and architectural metalwork in forged steel, bronze and glass. His work is shown at Wexler Gallery in Philadelphia and has been exhibited throughout the country, most recently at SOFA Chicago through Maurine Littleton Gallery. Chris has taught at Montgomery College, Thomas Jefferson Arts Center and Snow Farm School in MA.
Click here to visit Chris' website
Resident artists and Friends of the Studio
The Glass School also has a number of Resident Artists who work in the Artist Incubator Space. These artists bring a fresh perspective and energy to the Glass School. Friends of the Glass Studio involves volunteers to support the Washington Glass School classes, events and collaborative projects.
Kate Barfield
Nancy Kronstadt
Special Friends and Supporters of the Washington Glass School
Kay Janis
Veronique Lanthier