MT. RAINIER STUDIO AND CLASSROOMS
Washington Glass School, 3700 Otis Street, Mt. Rainier, MD 20712
FAQs
I have no previous glass experience is that OK?
Unless specified in the class description, all levels are welcome to the class.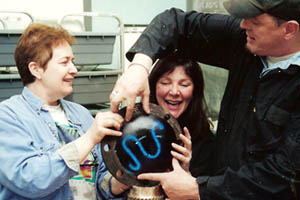 Is there a glass blowing class?
We do not blow glass here at the Mt Rainier facility.
How do I register for a class?
We now are linked with PayPal – and class signup is easy and online! – or if you prefer the old-fashioned way – please call or email to hold a space and mail a $50 deposit check made out to 'Washington Glass School' to Washington Glass School, 3700 Otis Street, Mt Rainier, MD 20712. Be sure to include the course name and your phone number on the check.
Is there parking?
Heaps of parking along the street & right in front of the door!
Are you near a Metro Stop?
We are 2 miles north of the Red Line – Rhode Island Metro.
If you want to take a bus from the Metro, take the T18 to New Carrollton, the 82 to Mt Rainier, or the 83 bus to Cherry Hill; getting off at 37th Pl, and walk down to the school. Since March 2017, DC Metro has added a new direct bus to Mt Rainier that travels along Rhode Island Ave during rush hour – the G9 bus.
What should I bring / wear?
Most classes have all materials provided unless noted otherwise – as for clothing, comfortable clothing that you don't mind getting messy. Natural materials are preferred; no open-toe shoes (including sandals, flip-flops).
What are the age limits for students?
The youngest student age is 18; with special arrangements for schools, the minimum age for a student is 13. No one under 13 is allowed enrollment in classes.
Do you do glass repairs?
No.