>Lampworking, torchwork, flamework – all mean the same thing – sculpting glass heated over a torch. You will get hooked on the immediate satisfaction that comes from this form of art! The flameworking program at the Washington Glass School has expanded. Take our beginner lampworking classes and build your skill level (and fun level) with the open studio Flamework Club. Or take the next step – with our Intermediate Sculptural Flamework class.
This class session we have brought on some new special classes with super star instructors: Elizabeth Mears and Michael Mangiafico!
Elizabeth Mears is a full time, award winning artist. Whether representational or conceptual, her artwork reflects her strong connection with nature; often combining glass with mixed media. Liz studied and now teaches lampworking techniques at Penland, Pilchuck and Corning Studio. Her book "Flameworking" was published in 2003 by Lark Books. Liz will draw upon her love of nature for her "Lets Make Leaves" class and her "Building Flowers with Bridges" class.
Michael Mangiafico (Fig) graduated with a BFA in glass art from Carnegie Mellon University. He has been teaching lampworking and glass blowing for over 20 years. He owns and operates his own glass studio in Pittsburgh, Pa. His work is available in galleries nationwide and has been featured in numerous art magazines and publications. Fig will be teaching an amazing class on creating bugs "Glass Entomology".
Have a look at the full Fall Lampworking Schedule:

SPECIAL LAMPWORKING CONCENTRATION CLASS SCHEDULE
Class 1032 – FLAMEWORK CLUB – Open Studio for Flameworkers
Already know the basics of flameworking? Want to join others in a social atmosphere while you work? Our Flamework Club gives each student the opportunity to work independently in a world class studio while meeting some great new friends! Materials extra.
Class Limit: 6 students
Instructor: Studio Staff
Dates: Saturday afternoons (call to confirm appointment)
Time: 1:30pm – 5 pm
Tuition: $300 for 4 sessions – or included with Instructor Classes (#1033, 1034, 1035, 1036, 1037)

---
Class 1033 – Beginning Sculptural Flameworking
Learn the basics of making objects in the flame from borosilicate (Pyrex) glass. This 2-day class will focus on skills that are the basis of working with glass on the torch. You will come away with knowledge and some fine objects too! Rob is an energetic, knowledgeable instructor and artist who is ready and willing to help anyone learn this fascinating art form. The materials fee provides student with initial pack of glass, fuel for the torches and the loan of a full set of hand tools. Additional glass and supplies are available for purchase as the class progresses. Take this class more than once to reinforce your skills! Class Limit: 6 students
Instructor: Robert Kincheloe
Dates: Session A Sept 18 & 19, Session B Oct 2 & 3

Time: 10am – 1 pm
Tuition: $250 + $50 material fee
---
Class 1034 – Intermediate Sculptural Flameworking / Working Hollow
This is a student driven class that will promote techniques not displayed in the beginning class. In this 2-day class, students will learn to work with tubing to create glass sculptures. (materials cost of $50 payable at first class meeting) Class Limit: 6 students
Instructor: Robert Kincheloe
Dates: Saturday / Sunday, November 20 & 21
Time: 10 am – 1 pm
Tuition: $250 + $50 material fee
---
Class 1035 – Glass Entomology – Lampworked Insects with Michael Mangiafico
Students will learn to work with soft glass while observing nature. Students will explore heat control, cane pulling and the basics of soft glass sculpting. His glass insects are some of the finest examples of lampwork worldwide.
Michael Mangiafico has been teaching torchworking and glass blowing since 1993. While his specialty is making glass insects, he also makes beads, marbles, jewelry, vessels, and paperweights. Class Limit: 6 students
Instructor: Michael Mangiafico
Dates: Saturday / Sunday, October 9 & 10
Time: 10 am – 1 pm
Tuition: $300 + $50 material fee
---
Class 1036 – Lets Make Leaves! with Elizabeth Ryland Mears
Why leaves you may ask. We will pay homage to Nature's small factory (Bio 101…CO2 + chlorophyll, + sunshine = sugar and O2) while we learn to control the bench torch, manipulate hot glass, direct the heat, use tools to create shape and texture, and work with different sizes of clear rod and tube. The focus of our endeavors will be to make "parts" which can be incorporated into larger sculpture at a later time. Class Limit: 6 Students

Instructor
: Elizabeth Ryland Mears
Dates: Saturday / Sunday, October 23 & 24
Time: 10 am – 1 pm
Tuition: $300 + $50 material fee
---
Class 1037 – Building Flowers With Bridges! with Elizabeth Ryland Mears
"Bridges" are to Flameworking what exoskeletons are to beetles…they hold everything together. We will use the technique of "bridging" to make a daisy-like flower. We will make the flower then add the bridging to hold all the parts in place while we thoroughly fuse the glass together in the flame of the bench torch. This technique is invaluable when larger sculpture is created, so we will practice on a smaller object. The instructor will guide you step by step through the process. The bridging is temporary so will be removed to reveal a small object ready for further creative use. Class Limit: 6 Students

Instructor: Elizabeth Ryland Mears
Dates: Saturday / Sunday, November 6 & 7
Time: 10 am – 1 pm
Tuition: $300 + $50 material fee
---
For more information about classes – or to register and pay for the class using the online PayPal system, click HERE to jump to the school's website class list.
>
The Washington Glass School's New Fall Schedule is now out! Some fun new classes, some favorites are back, and a new Lampworking Concentration Schedule! This season's new lampworking classes includes some superstar instructors teaching in the special concentration classes. (More on these exciting new classes in following posting.)
New to the DC area? Our glass fusing and casting classes are a great way to get out, meet some new friends, make something beautiful, and get into the Washington arts and craft scene! The evening and weekend classes are scheduled to accommodate the hardworking DMV crowd (District, Maryland, Virginia).
Have a look at the new main glass fusing and casting schedule, then take a look at the super deluxe Lampworking Concentration classes.
Washington Glass School Fall 2010 Class Schedule
Class 1025 – Beginner's Glass Lover's Weekend
Our most popular class, this is the fastest way to learn all aspects of warm glass in the shortest amount of time! Under the supervision of several professional glass artists you will learn the fundamentals of fusing, slumping & dimensional kiln casting. A great class to bring a friend (or make one!). Everything from bowls and plates to sculptural objects….this is the perfect way for a beginner to learn the basics of glass….and you will leave with several very cool items! The class is offered 3 times during the fall schedule
Instructor

Tim Tate, Robert Kincheloe and Michael Janis

Dates

Session 1025A September 25 & 26
Session 1025B October 30 & 31
Session 1025C December 4 & 5

Time

1 pm to 5 pm each day

Tuition

$300 per student (all materials included)
---
Class 1026 – Going Green – Recycled Glass Art
Green up your life by doing something creative to help the environment! This is an exploration into using recycled glass to make sculptural pieces, architectural elements, jewelry and tableware. We will delve into various techniques, including casting, fusing and slumping. Once you start down the path of recycled glass, you will see more and more opportunities for experimentation around you. Glass chemistry, coloration, and firing temperatures will be explained for each particular application. No prior experience is necessary – you are encouraged to bring in materials you'd like to try.
| | |
| --- | --- |
| Instructor | Erwin Timmers |
| Dates | Wednesday evenings September 29, October 6 & 13 |
| Time | 7pm – 9:30pm |
| Tuition | $300 |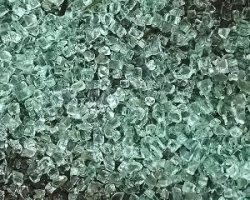 ---
Class 1027 Bas Relief in Glass – Overview of Deep Relief Dry Plaster Casting
Tired of working flat? Want an easy way to get some real depth into your glass? Here's a fun class where you will learn one of the easiest methods of kilncasting sheet glass to achieve bas-relief sculpture. This incredibly versatile method has endless fine art and architectural applications. In this two day class, we will discuss different types of glass and their firing schedules. Working with color and how it can affect dimensional casting will also be explored. Bring items you may want to cast with this method or choose from our image library. All materials and firings included.
| | |
| --- | --- |
| Instructor | Michael Janis |
| Dates | Saturday / Sunday October 2 & 3 |
| Time | 2pm – 5pm |
| Tuition | $350 |
---
Class 1028 – Beginning MIG Welding
Want to try your hand at welding? Ever thought about making a metal stand to display your glass? How about a metal frame? You can do it yourself, and it's easier than you think. In 3 evenings you will learn how to make a display stand or frame to show off your work at its best. You will also leave with lots of ideas and know-how for other projects. This class will teach you the basics of welding, metal work and design, joining, bending, and finishing.
| | |
| --- | --- |
| Instructor | Erwin Timmers |
| Dates | Wednesday evenings in November (3, 10,17) |
| Time | 7pm – 9:30pm |
| Tuition | $325 |
---
Class 1029 – Bullseye Glass Roll-up
If you've ever been interested in making your fused glass panels into blown vessels- then this is the class for you! Come experience one of the most exciting trends in glass – where you get the best of both worlds. One class will be spent fusing Bullseye Glass into a panel at the Washington Glass School. The next class will be held at DC GlassWorks where you will help blow the glass into a vase, or bowl, or even go more sculptural! This class is for all experience levels, both fusers and blowers who want to see their imagery in blown glass.
| | |
| --- | --- |
| Instructor | Dave D'Orio, Michael Janis |
| Dates | Saturday October 9 & 16 |
| Time | 1:30pm to 5pm each day |
| Tuition | $350 |
Click HERE to see video of roll-up process.
---
Class 1030 – Steel & Glass Sculptural Development
For this incredible class, we are teaming up with our sister school at DC Glassworks to form this amazing collaborative experience. For anyone who has dreamed of creating true sculptural work, this is the class for you! This unusual class will feature 6 Sunday workshops, some discussing sculptural theory, while most are simply hands on with material in both studios. Students will be introduced to the basics of metal working, glass casting and fusing, and aluminum casting. This class is designed for anyone from beginner to the most advanced, no prior knowledge of glass, steel or aluminum are necessary. (An 18″ height restriction will be imposed on all pieces).
| | |
| --- | --- |
| Instructor | Patrick Burke, Dave D'Orio, Tim Tate, Erwin Timmers |
| Dates | Sunday afternoons in October (17, 24, 30) and November 7, 14,21) |
| Time | 2pm – 5pm |
| Tuition | $450 |
For more information, and to pay for the classes online, via PayPal, click HERE to jump to the school's website.