teapots! 9th invitational exhibition at Pittsburgh's Morgan Contemporary Glass gallery opens April 10, 2015.  Featuring teapots by more than 60 artists in all media—ceramics, fiber, glass, metal, wood and mixed media, the exhibit captures the versatility of the form. This highly anticipated annual show draws international acclaim, while showcasing an ever-diverse group of invited artists to challenge themselves with the teapot form, taking ingenuity and creativity to new heights. Look for work by glass artists: Devyn Baron-Griley, Robert Bender, Christina Bothwell, Jonathan Capps, Eunsuh Choi, Daniel S. Coyle, Lisa Demagall, Sean Hennessey, Chadd Lacy, Weston Lambert, Ashley McFarland, Kelly O'Dell, Chris Pantos, Angus Powers, Nanci Schrieber-Smith, Demetra Theofanous, Stephanie Trenchard, and many other media artists!  teapots! 9th invitational exhibition continues in the gallery through June 13, 2015.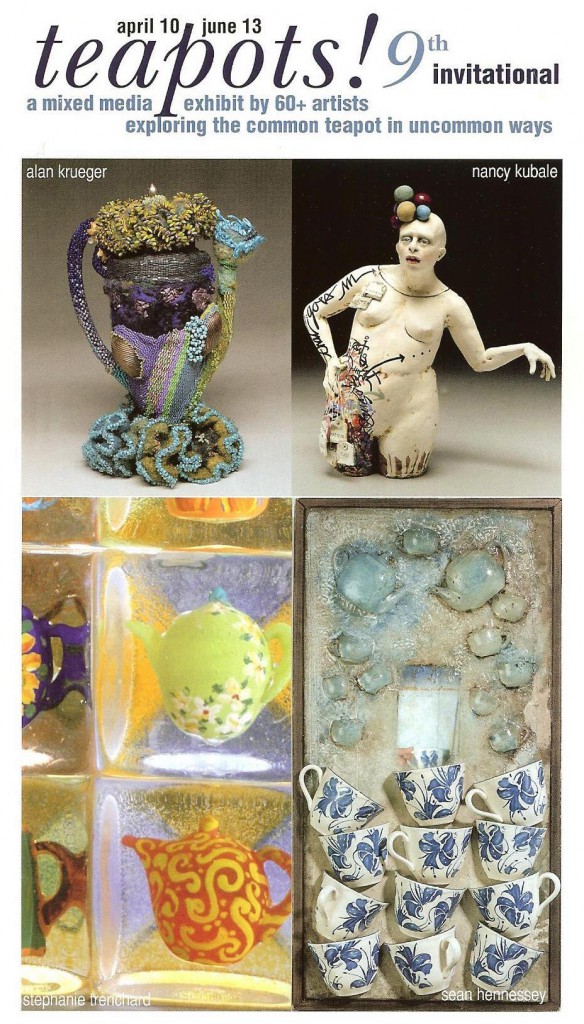 New to the gallery, Sean Hennessey combines glass, concrete, photography, drawing, light, video, paint, found objects, wood and steel in his whimsical "Alice in Wonderland" inspired teapot. Being an avid coffee drinker, Hennessey moves from the mug to the teacup in his teacup filled mixed media wall piece. Niche award winner, Demetra Theofanous will be returning to the teapot show to create her second teapot for the gallery. In her piece, she uses her self-developed glass weaving technique to create her narrative, delicate, flame-worked glass that often takes months to complete.  Husband and wife artists Robert Bender and Christina Bothwell will be collaborating again in this year's annual teapot show. Though they both come from casting backgrounds, their conceptual differences come together to create a whole new approach emanating a sense of curiosity. 
According to gallery owner, Amy Morgan, "Our show continues to surprise me through each artist's unique interpretation of the teapot. What I find most appealing every year is the subtlety of the form, as some artists express their design concepts through a formal structure, while others do so through abstraction and figural work."  Each artist greets the challenge of the teapot in a different way. 
Founders of the Kamm Teapot Foundation, Gloria and Sonny Kamm, whose collection is considered one of the largest and most comprehensive in the world, remark, "Teapots have long inspired the inventiveness of creative souls — artists, designers, and architects. This creativity motivated us to collect teapots… in quantity and depth… with a plan to house it in a 'museum home' for our entire collection so that in the future can be enjoyed by the public."