Recently it was announced that the next Artomatic will be completely virtual!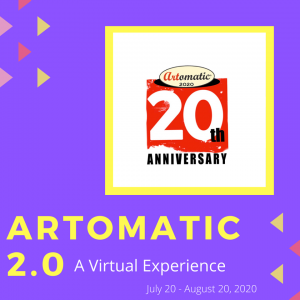 ARTOMATIC 2.0: A VIRTUAL EXPERIENCE is a digital response! Since we can't gather physically for now, the DMV artfair for all will move their 20th anniversary celebration online.
Artomatic debuted in 1999 as a non-juried, volunteer-run exhibition in the Manhattan Laundry building, which also lent the event its washer-inspired name. Over time, it has grown into a 501(c)(3) with a board of directors and tens of thousands of attendees at each iteration, but until now, the model has remained largely unchanged: Participants pay a modest entry fee and take volunteer shifts staffing the event, in exchange for ample space to exhibit or perform pretty much whatever they want for multiple weeks. Events have happened more sporadically in recent years, but organizers wanted to mark the 20th anniversary year in a meaningful way. However, 2019 came and went without finding a location to host a celebration, so anniversary plans were moved to 2020, only to be upended by the outbreak of COVID-19.
Here's what's happening:
*Visual artist profiles to display/sell art thru their pay channels
*Live opportunities for performing artists
*Enriching workshops
*By artists, for everyone
*July 20 – August 20, 2020
More information soon. Stay tuned.