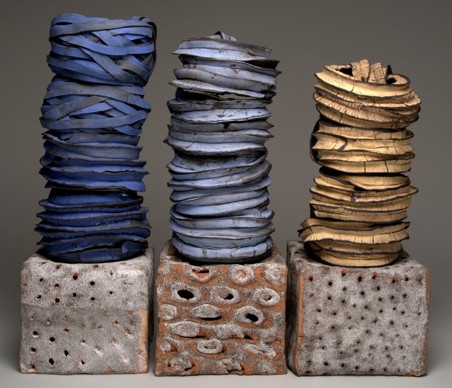 The James Renwick Alliance (JRA) showcases ceramic artist Judit Varga as part of the 2016-17 Distinguished Artist Series.
An accomplished ceramicist, Judit uses three shapes – circle, square, and knot – as her basic vocabulary. By concentrating on simple forms, texture and muted colors, she highlights the sensual qualities of the clay itself and explores wider subjects of movement, transition, and change.
In the JRA workshop Judit will show some of her techniques for creating texture and interesting color variations, and forming her large abstract shapes (held at artist's studio in Kensington, MD.)
In her lecture, Judit will show slides of her work and discuss her career, including her international background and influences.
For more information: www.juditvarga.net
WHERE & WHEN
Workshop Date: Saturday, Sept 24, 2016
Time: 9:30 am – 12:00 pm
Workshop Venue: Judit Varga Studio
4208B Howard Avenue
Kensington, MD
Lecture Date: Sunday, Sept 25, 2016
Time: 2:00 pm – 3:00 pm
N.B. This weekend has the opening of the National Museum of African America History Museum (with 20,000 expected in DC/Saturday and many on Sunday) – which will coincide with Judit's presentation SAAM presentation – make sure you allow for traffic on the event.
Lecture Venue: MacMillan Education Center at the Smithsonian American Art Museum
The James Renwick Alliance was created as an independent national nonprofit organization to celebrate the achievements of America's craft artists and to foster scholarship, education and public appreciation of their art.
General Information:
Workshops will take place on Saturdays, from 9:30am to 12:00. The morning will begin with a meet-and-greet with the artist over coffee and pastries. The workshop will begin at 10am and end at noon.
On-site parking available at all workshops. Locations and directions for each workshop can be found on individual workshop pages.
Workshop participants will have the opportunity to attend a potluck dinner with the artist on Saturday evening, if space permits. Details will be provided to workshop registrants.
Sunday lectures are free and open to the public and will take place from 2:00pm – 3:00pm .
Price
Member – $160
Non-member – $220
click HERE for more info.