Black Reel Award
The Foundation for Advancement of African Americans in Film chose this design for their Black Reel Award.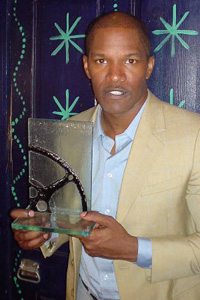 Black Reel Award
Jamie Foxx accepting the Black Reel Award.
Compass Award
The Compass Award was created for Forbes/Bearing Point to honor the CEO of the year. The simplicity of design and material makes an elegant statement.
Smith Business College
The University of Maryland Smith School of Business commissioned the Washington Glass Studio to create their awards.
Washington DC Mayor's Award
Given to Heads of State representing Washington DC.
Washington DC Mayor's Award
Award being given to Ghana's President by Mayor Williams and Commissioner McSweeney.
American Automotive Industry Award
Multi-layered cast glass trophy.
Food & Friends Certificate Award
Award commissioned to hold documents.
USCRI Centennial Award
The United States Committee for Refugees and Immigrants commissioned Washington Glass Studio's Michael Janis to create glass awards, given posthumously to the families of President Dwight Eisenhower and Senator Edward Kennedy honoring the work they performed on behalf of world refugees.

National Geographic 'Arts Ambassador for the Environment'
The National Geographic Society named musician and environmental activist Jack Johnson to receive the newly created "Arts Ambassador for the Environment Award," presented to an individual in the entertainment field who has demonstrated leadership in environmental and cultural conservation by elevating issues of sustainability and inspiring audiences to care about the planet. Made of recycled glass, the award was presented