Long Grid
Cast glass provides an infinite variety of patterns and images. Each casting is unique, as the mold used to make the artwork is destroyed after each firing. Illumination and other effects can create strong visual statements. Above artwork is for a Las Vegas casino
Short Grid
Working within a steel frame module provides an architectural solution for large area artwork and smaller unique statements.
Circle Grid
The metal grid does not have to be square or rectangular. Above artwork for hospital lobby.
Circle Grid Detail
The colors and geometry combine to create a soothing and inspring artwork
Logos and Corporate Symbols
The combination of glass, neon and traditional lighting creates an effective lobby sign.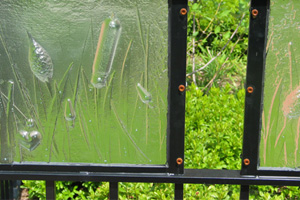 Glass Gateway
Detail of glass insert used fo a pubic park. We are pioneers in the use of plate glass for castings, which is appropriate for indoor or outdoor use.